Events
Our virtual and hybrid options
VIRTUAL & HYBRID SOLUTIONS
1.2.3 EVENTS also brings VIRTUAL events to life. The event plays a vital role in a company's life and we have found the ideal solution to preserve it!
The digital event invites you to experience a moment out of time, even from far away.
During your experience you will find all the essentials of a successful event.
From the cocktail reception, to the speech, including the show, conferences with sub-committee rooms, stands, friendly entertainment and goodies, everything will be there!
To perpetuate the link with your guests or your teams, 1.2.3 EVENTS has redesigned events! Today, we offer an innovative solution: the digital experience event.
To organize your seminars, your product launches or your festive evenings, we offer you a digital version of the event.
Although on a digital concept, everything has been designed for humans to take precedence over digital.
Beyond a simple alternative, the digital event is an opportunity to bring people together around a new format offering the possibility of experiencing the same emotions, at the same times, without location constraints.
A good alternative for bringing together as many people as possible for your events with a lower impact on the environment.
VIDEO CAPTATION
Essential to a digital event, video capture is the heart of the experience !!!
Taking care of the visual and sound rendering of your event is essential. The TV set format that we recommend will be able to highlight official speeches, shows, participatory events, all professionally filmed and broadcast live or recorded to guests.
We offer 2 types of TV sets, created to measure and personalized according to your needs. As at a classic event, the guests will thus have the impression of being immersed in a world in its own right, even if the computer screen separates them!
The equipped TV set is more suitable for impactful interventions thanks to its curved video backdrop, mood lighting and dynamic LED.
With these studios you will be sure to get an impactful visual for your guests. The LED background allows to broadcast your key information, sets, motion design… We can add scenography elements to these sets which evolve according to the themes and the speakers.
The advantage of the equipped studio is the customization! We can create everything tailor-made for your digital event. Your tray background can be designed in the colors of your company or your event, motion designs can be used during the event and specific decor can be arranged.
The mobile TV studio can be installed in the location of your choice. We recreate all the conditions of a real TV set in your space and we add the scenography elements.
For a spirit of proximity to your employees, and a warmer feel, you can, for example, install the studio in your premises. This makes it possible to create a visual link with your own identity.
Using a mobile TV set is also an opportunity to take advantage of the place to create and capture video clips that can be used as part of your internal or external communication strategy. This is optimizing the installation of the studio for other projects!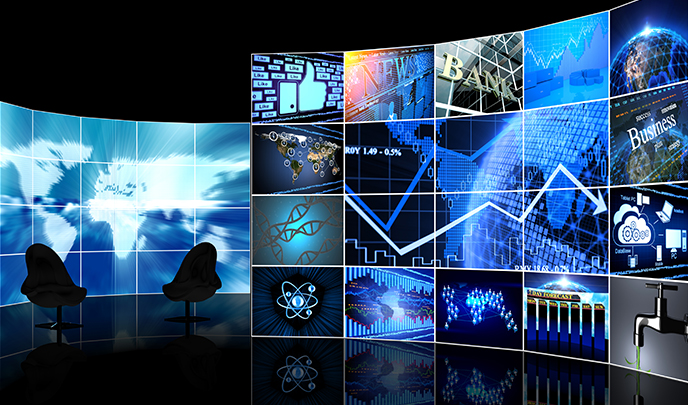 DIGITAL PLATFORM
Participants will meet on a digital platform specially designed for the event. Complete, simple and intuitive, it will allow them to have a good time.
For more convenience, this platform is accessible on all media (tablet, smartphone, PC or MAC). Guests join the event with a single click, no app download is needed.
The platform offers participants the opportunity to attend live, participate in friendly activities, exchange via discussion and interaction spaces!
Depending on your objectives and expectations, we offer to manage any more traditional videoconferencing tools (Zoom, Teams, Meet, etc.) for the dissemination of your event.
INTERACTIVITY:
Whatever your interaction need, we have the solution! chat, Q&A, surveys, word clouds, e-learning modules ...
Enough to involve your participants as much as possible via our participatory digital animations
The digital event should not turn guests into spectators! To ensure the entertainment of participants we set up many interactions essential to the success of your event !!!
EDITORIAL & STAGE COACHING
Worried about being in front of the camera? Write a speech and step into the shoes of a real presenter?
Do not panic ! 1.2.3 EVENTS offers you personalized coaching, from editorial creation to the creation and dissemination of your digital event.
Our coach will also be essential for your speaking engagements. The positioning on stage, the look, the speech, the tone, the optimization of the space will all be addressed in order to produce the best rendering.
The coach will have an informative role for you and will give you a lot of advice to keep your audience attentive.
STORYTELLING & CREATION OF GRAPHIC CONTENT
1.2.3 EVENTS has a particular interest in imagining storytelling and innovative concept in order to make your event impactful.
Just like a physical event, your digital event should not ignore the concept.
THE 360 ° VIRTUAL SITE VISIT
Interactive, it allows hundreds or even thousands of people to discover at a lower cost, in complete safety, your site, your factory, your products ...
And why not hold your virtual event within your own site?
An innovative approach!
VIDEO MAPPING
Video mapping is a concept of light or video projection on surfaces such as facades, buildings, monuments, objects...
Ideal to give a touch of originality to your events!
1.2.3 EVENTS offers you to use video mapping for all your exceptional events: seminar, convention, gala evening, inauguration, product launch...
In the form of wall projection or digital scenography, we offer you quality visual animation.
What to offer a beautiful show to all your employees or your customers !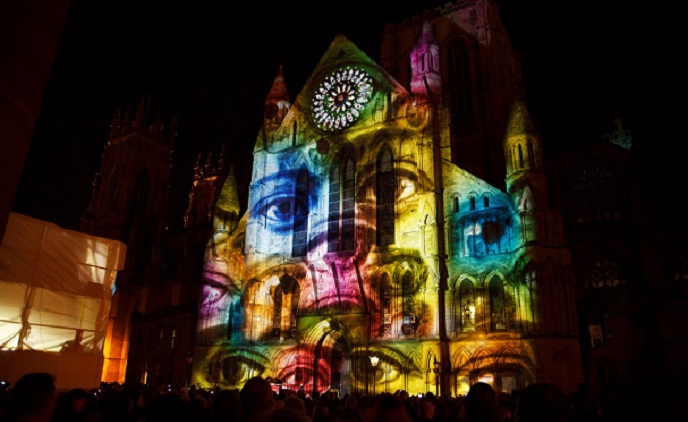 VIRTUAL ANIMATIONS
Fun, interactive and friendly
We have become the specialists in online usability:
Tailor-made team building
Escape game online
Culinary challenge
Cooking class with a chef
Wine tasting aperitif
Fun quiz
Cocktail making
Magic ...
The human bond and conviviality are preserved thanks to the professionalism of our animators, handpicked and ready to do anything to make this moment engaged, warm, fun and convivial.
Personalized FOOD BOXES
Before the digital event, your guests will receive a personalized box at home or at the office.
The box, made up of food, drinks, goodies, or even tools for the realization of a team building will be appreciated during the event.
With content chosen according to your desires, this gift brings a physical and authentic side to the digital event.
Beyond the digital gathering, your guests will share a moment of tasting, together.
Realizations